| | |
| --- | --- |
| | |
LOEYS-DIETZ SYNDROME IN THE LITERATURE
Dr. Paul Sponseller (
LDSF Medical Advisory Council
) and colleagues published a research study,
Management of Scoliosis in Patients with Loeys-Dietz Syndrome
in the July issue of the
Journal of Pediatric Orthopedics. Medical records from 141 patients at Johns Hopkins were reviewed for spinal evaluation. Eighty- eight of 141 (62%) patients with Loeys-Dietz syndrome had scoliosis, with curves in the thoracic and thoracolumbar areas being the most common. Fifteen patients had bracing (average age 9 years) for an average time frame of 2.3 years (and average of 19 hours per day). Post-bracing there was a mean curve progression of 12 degrees. There were no significant differences in age, sex, curve type or pre-bracing curve degree between successfully braced (4) versus those unsuccessfully braced (11). (Bracing failure was defined as curves progressing >5 degrees or to curves >50 degrees).
In 9 patients, 24 surgeries were performed, with an average age of 12 years at first surgery. Surgeries included 16 growing rods and 8 fusions. Recurrent rod fractures were common (9 out of 16), however no patients had failure of fixation with pulling out of screws or hooks requiring revision. 5 out of 9 patients required fixation or fusion or growing rods to the sacral spine/pelvis because of an unbalanced spine or...
READ MORE
.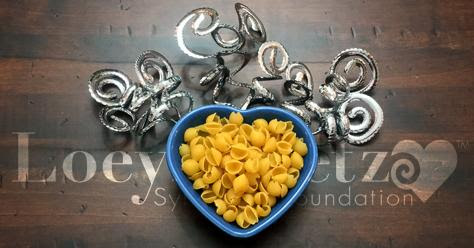 PENNE FOR YOUR THOUGHTS: A PASTA FUNDRAISER!
We are about half way through our month long pasta fundraiser. We want to say thank you and wish continued good luck to all the families and individuals who have volunteered to sell pasta in support of the LDSF! You are all off to an incredible start!


If you want to support the fundraiser, but didn't sign up to sell, you can still purchase pasta at the link below. Every purchase helps to bring the foundation closer to realizing our $500K research funding goal!
MEET COURTNEY
Hello everyone! My name is Courtney Whitmore; I, myself, am a fellow LDS patient! Originally, I am from a small town just south of Boston; however, I am currently entering my senior year at North Carolina State University in Raleigh, NC. I absolutely love North Carolina and have been so lucky to do so well while in college. Since moving to Raleigh three years ago, I have become involved in many organizations and groups both on and off campus. Just a few of my experiences include being an ambassador for the College of Sciences, serving as Vice President of MEDLIFE, volunteering at Victory Junction Camp, rushing a sorority (proud to be a Kappa Delta), and tailgating Wolfpack football games. I will graduate in the spring with a Bachelor of Science...
FOSTERING RESEARCH: AORTIC/VASCULAR SURGERY SURVEY
We would like to thank all of you who have taken the time to participate in our survey regarding aortic/vascular surgery! The responses we have received are already shaping our surgery advice packets.
If you have not yet completed the survey, there is still time.
We especially need input from our kids/teens!
Please, click on the link below for more information and links to the survey. The more participants we have, the more complete we can make these new resources!
TO JOEY, WITH LOVE: NOW A TWO-NIGHT EVENT!
Joey+Rory
, "Heart of Gold" award winners, have been long time supporters of the Loeys-Dietz Syndrome Foundation. They have relentlessly furthered the mission of the LDSF by raising awareness of Loeys-Dietz syndrome. In continuing this effort of bringing increased awareness to LDS, Rory has included a brief video about LDS in the pre-show to his feature length movie
To Joey, With Love
.
To Joey, With Love
shares the story of his late wife, Joey, and their amazing life together. It is coming to a theater near you for a special two-night event:
September 20
and
October 6
. You can watch the trailer below or learn more and buy tickets on the
To Joey, With Love website
.
The LDSF wishes Rory, Indiana, and the rest of the Feek family good luck on this project! We would also like to thank them for this incredible opportunity and for alwaysTaking Heart!
OPPORTUNITIES TO TAKE HEART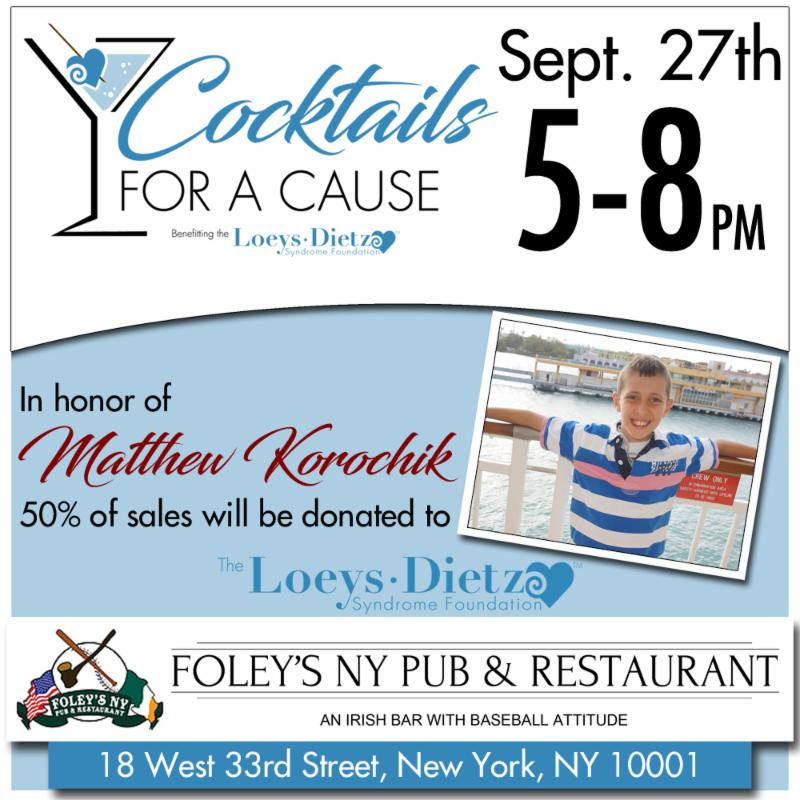 Do you live in or around NYC? Want to grab a drink after work? On
September 27
, you should do just that. Regina Korochik has partnered with
Foley's NY Pub and Restaurant
to host a
Cocktails for a Cause
benefitting the LDSF in honor of her son Matthew. 50% of sales from

5-8PM

will be donated to support the LDSF's mission. Hope to see you there!
---
Ever run a half-marathon? Ever run a half marathon in Long Beach California whil
e raising
funds for the LDSF? Well these amazing people are doing just that! A huge thank you to Marjohn Rasooly (pictured), H
eidi Padilla, Maira Padilla, Luana Jimenez, and Julie W
ilson who are holding a Move your Feet for Loeys-Dietz fundraiser in conjunction with the
Long Beach Half Marathon
in October. You can head over to their
CrowdRise page
to show your support
!
---
On
October 22nd
, the Kemmer family in Marvell, AR will be hosting the 3rd annual
Abby's Amazing Race 5K and Fun Run. You can learn more on their
facebook page
. You can also
register online to run
.
If you are in, or near, Marvell, AR, please consider participating. It is always a great race on a beautiful course.
---
We have a second
Move your
Feet for Loeys-Dietz
fundraiser being held by the Burton family in memory of their late daughter Devyn (pictured). As many of you know, Devyn lost her battle with LDS in July of this year. As a celebration of Devyn's life,

t

he family has decided to raise funds, in hopes of helping to spread awareness and fund research. This fundraiser is being held i

n conjunction with a local Jingle Bell 5K this December

. You can learn more about their story and help celebrate Devyn on their
CrowdRise page
.
---
More events and
opportunities
are on their way. Follow us on Facebook to make sure you don't miss any of them!
WITH THANKS

We would like to say a very special thank you to Kelly Toohey, her brother Thomas Toohey, and the
The Rotary Club of Lake Hopatcong
.
They held a charity clay shoot to benefit the LDSF on August 21st. The participation was incredible with the maximum number of allowed teams showing up to participate. Thanks to all those who came out to shoot for taking heart!
---
If you happened to be passing the
Maine East High School
football field on September 2nd, you may have seen a blue glow. That was all the blue glow sticks the Padilla family
handed out as part of the LDS awareness night they hosted in conjunction with the school. A huge thanks to the Padilla's and Maine East High for all their work to make more people aware of Loeys-Dietz syndrome. Plus, check out those socks!
---
We would also like to thank all those who have become
monthly recurring donors
. Such contributions are assisting us in building a strong financial base upon which we can fulfill our mission. If you would like to join in making such a commitment, please do so right here.